Main content starts here, tab to start navigating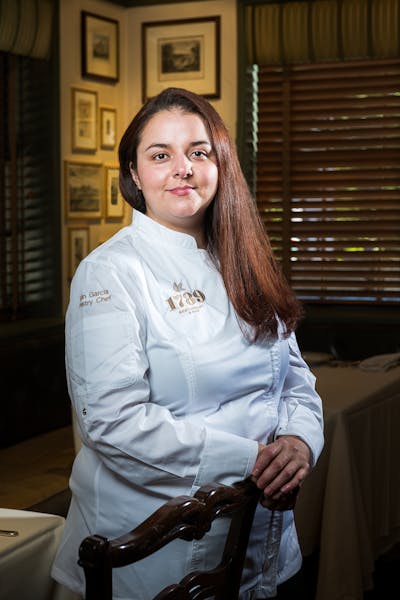 Erin Garcia
Pastry Chef
With a decade of professional pastry experience, Erin Garcia – a proud native of Sante Fe, New Mexico – has joined the talented team at historic and critically-acclaimed 1789 Restaurant located in the heart of Georgetown.
Garcia traces her passion for pastries and other creative confections to her earliest childhood memories in the kitchen at her mother's side as she prepared apple pies and other baked treats from scratch.
During Garcia's sophomore year of college she discovered how much she enjoyed baking and sharing her food with others and quickly made the decision to pursue culinary school. After completing a degree in Hotel and Restaurant Management, Garcia attended the Art Institute of Washington in Virginia.
Prior to joining the team at 1789, Erin gained experience back in Santa Fe at a bakery, as well as becoming an assistant cake decorator for famed New Mexican cake artist, Maggie Faralla. Garcia continued her career as a Pastry Cook at Miraval Resort and Spa in Tucson, Arizona, before making her way back to Washington, DC as a Pastry Cook at Centrolina. She most recently was part of the opening pastry team at MGM National Harbor, ultimately becoming Executive Pastry Sous Chef where she created custom cakes for a roster of celebrities, athletes, and other VIPs.
Garcia's experiences have helped define her style – modern takes on classic French pastry techniques – with fresh, seasonal ingredients. She is looking forward to sharing some of her favorite flavors, recipes, and new ideas with our guests as the Pastry Chef at 1789.